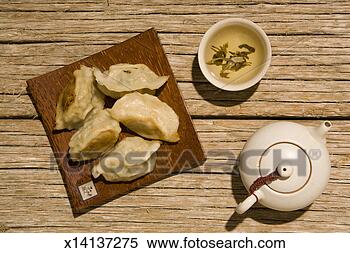 Photo credit: fotosearch.com
These Chicken Pot Stickers are an easy how to make pot stickers recipe that will leave you satisfied. It's not only one of the best Chinese food recipes, it's also simple to make.
Yields : 48
Cooking Time: 36 min
Ingredients
1 1/2 pounds ground chicken
1/2 cup green cabbage, shredded
1/3 cup green onions
2 teaspoons gingerroot, chopped
1 teaspoon sesame oil
1/4 teaspoon white pepper
1/2 cup red bell pepper, finely chopped
1 egg white
1 package (10 ounces) round wonton skins
2 cups chicken broth
4 teaspoons soy sauce
Instructions
1.Mix all ingredients except wonton skins, broth and soy sauce.
2.Brush each wonton skin with water. Place 1 tablespoon chicken mixture on center of skin.
3.Pinch 5 pleats on edge of one half of circle. Fold circle in half over chicken mixture, pressing pleated edge to unpleated edge.
4.Repeat with remaining skins and chicken mixture.
5.Spray 12-inch skillet with nonstick cooking spray; heat over medium heat.
6.Cook 12 pot stickers at a time in skillet for 3 minutes or until light brown; turn.
7.Stir in 1/2 cup of the broth and 1 teaspoon of the soy sauce. Cover and cook 5 minutes.
8.Uncover and cook 1 minute longer or until liquid has evaporated.
9.Repeat with remaining pot stickers, broth and soy sauce.